Member Announcements
Coastal Orthopedics Plans to Expand with Lakewood Ranch Headquarters
December 9, 2020
After 16 years of doing business in East County, Coastal Orthopedics has decided to build its corporate headquarters in the community with an 88,000-square-foot facility on a 17-acre parcel on State Road 64, just east of Interstate 75.
The move is largely a response to rapid population growth in East County and the I-75 corridor.
"We've made a huge commitment to East County by putting our largest location, to include all of our administrative offices, out there," Coastal Orthopedics President Dr. Arthur Valadie said. "We think that's going to allow us to provide care for that whole corridor, all the way from Parrish and Ellenton, all the way down to that huge amount of growth in Lakewood Ranch and south down to Sarasota County. And the fact that we're about a half-mile off the interstate really makes all of our services accessible."
Construction is expected to begin in January. Read more
---
A CPOMP Member is Growing! Congrats on the new medical facility in Cumming, GA
November 27, 2020
Peachtree Orthopedics' brand-new medical facility in Cumming is starting to take shape. Slated to open in Summer 2021, the complex will provide patients in Forsyth County and surrounding areas with specialized orthopedic and sports medicine care, MRI, xray, physical therapy and more, all in one convenient location right off GA 400. Read more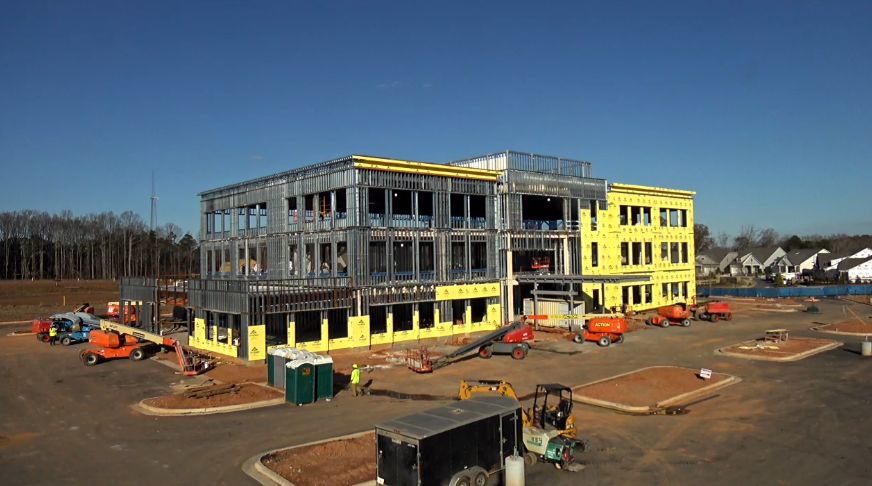 ---
Largest Independent Orthopedic Group in Texas Launches January 2021
November 17, 2020
Six of the most well-known, respected, and long-established orthopedic group practices in Texas have announced their launch as OrthoLoneStar, a single combined group practice in 2021. W.B. Carrell Clinic and Texas Orthopaedic Associates from Dallas, Fondren Orthopedic Group and Advanced Orthopaedics & Sports Medicine from Houston, Texas Orthopedics, Sports & Rehabilitation Associates from Austin, and Azalea Orthopedics from Tyler/East Texas are the founding divisions of OrthoLoneStar. Building on a legacy of independent private practice, the surgeons and physicians of the founding divisions believe that continuing a tradition of physician led practice will improve the delivery of healthcare across the state for the benefit of patients. Read more
---
OrthoVirginia Wins Best Orthopedic Practice 2020
October 11, 2020
With 27 locations around the state — including onsite physical therapy, orthopedic urgent care, and outpatient surgery centers — OrthoVirginia makes it easy to get on the path to recovery. High-quality, cost-effective care, and innovative orthopedic techniques keep patients coming back.
---
Bruce Cohen, MD Installed as AOFAS President
September 14, 2020
Congratulations to OrthoCarolina's, Dr. Bruce Cohen for being named the 2020-21 President of the American Orthopaedic Foot & Ankle Society. As AOFAS president, Dr. Cohen will focus on enhancing the Society's educational activities through technology, strengthening outreach efforts to international and allied health organizations, and solidifying long-term financial and strategic plans.
Dr. Cohen is a member of CPOMP's Advisory Board. Read the press release.
---
The Spine Hospital of Louisiana Earns 6th Consecutive FIVE-STAR Federal Hospital Rating
August 13, 2020
Only 266 Hospitals Across The Nation Earned Five-Star Designation.
The Spine Hospital of Louisiana at The NeuroMedical Center, the state's leader in spinal surgery and comprehensive pain management, is pleased to announce it has received a perfect five-star rating from the federal government in Patient Experience for the sixth year in a row. Out of 3,478 eligible hospitals across 50 states, The Spine Hospital was one of just 266 U.S. hospitals to receive the top rating from the Centers for Medicare and Medicaid Services (CMS). In 2020, The Spine Hospital was one of only 2 hospitals in Baton Rouge and 15 hospitals statewide to receive a 5-star rating.
Robert D. Blair, President & CEO of the Spine Hospital of Louisiana is a Member of CPOMP's Advisory Board. Read more.
---
Tallahassee Orthopedic Clinic Opens a New Location - September 2020
June 7, 2020
To better serve the growing community of patients, TOC's long-awaited Canopy Clinic opened its doors on Monday, June 1, 2020. This second location will empower their team of orthopedic specialists, surgeons, and physical therapists to offer patients the same prompt, dedicated, and individualized care they have come to expect from Tallahassee Orthopedic Clinic.
TOC Canopy Clinic includes TOC Now, orthopedic walk-in clinic, offering convenient urgent care for injuries with expanded hours six days a week. It's your fast, friendly source for sprains, strains, fractures and sports injuries, or painful issues that aren't getting better – at the cost of an office visit.
TOC Canopy Clinic is fully equipped with 62 exam rooms, X-ray, state-of-the-art pain management procedure rooms, physical therapy, and more to deliver consistent care that meets the needs of patients all at one location. Watch interviews from the staff.
CPOMP Members: Submit your Group's Announcement